Explore options for your stay
VIEW RATES FOR RV CAMPSITES
STANDARD SITES
Starting at $38.17*
*Plus tax per night based on lowest monthly rate.
Our original campsites with crushed asphalt, various lengths and widths, and easy access to our laundry center with restrooms and showers.
PREMIUM SITES
Starting at $49.67*
*Plus tax per night based on lowest monthly rate
Brand new campsites with compacted crushed asphalt, concrete borders, paver patios, plenty of space, and beautiful landscaping.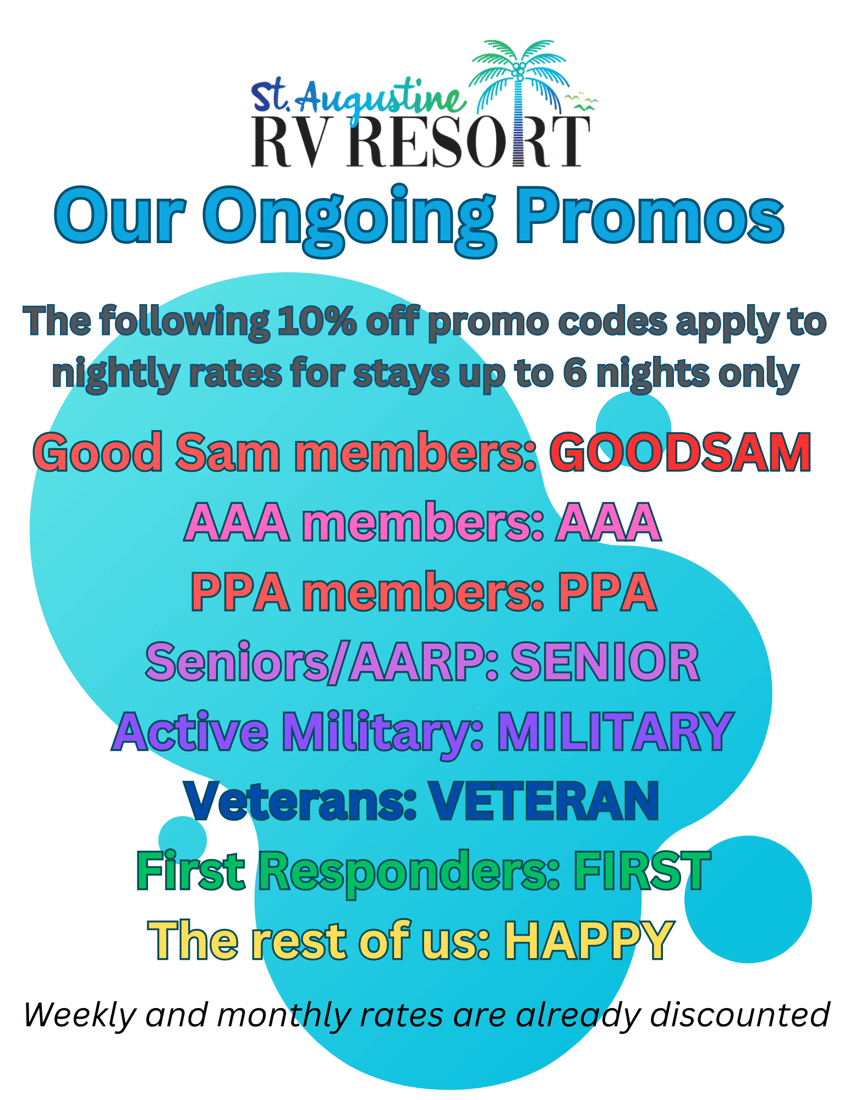 Frequently Asked Questions
Find answers and general information quickly.
How many campers do you allow for each site?
Rates are based on two (2) guests and three (3) pets per site. There is a daily charge for a third or fourth guest over the age of 3 years. All sites are subject to a maximum total of four (4) guests older than 3 years of age.
A deposit is required to secure all reservations. All deposits include a $3.00 booking fee.
Nightly stays – deposit is equal to total reservation charges.
Weekly stays – deposit is $303.00.
Monthly stays – deposit is $603.00.
Are there any additional fees?
There is a $3.00 service fee applied to each reservation and recurring invoice.
What types of vehicles do you accept for stays?
We accept registered and licensed recreational vehicles (RVs) only. This includes Class A/B/C/Super-C motorhomes, 5th wheels, and travel trailers only. We do not accept any converted buses, tiny homes, converted vans, automobiles, tents, pop-ups, etc. If you have any doubt about the compliance of your vehicle with these terms, send pictures of your vehicle to info@staugustinervresort.com before making a reservation for verification.
Do you accept RVs more than 10 years old?
RVs over 10 years old are subject to prior management approval based on the upkeep and appearance of the RV. Before making a reservation, send pictures of your RV to info@staugustinervresort.com for management review and approval. Failure to do so could result in your RV being turned away at check-in with no refund.
Do you allow tent camping?
No, we do not have tent sites available.
What forms of payment do you accept?
We accept major credit cards and cash. We do not accept personal checks. Any reservation account balances are due and payable upon arrival. All guests must have a credit card on file for the duration of their stay.
Do you offer group reservations?
Yes, we love hosting groups and do our best to find sites close together. Visit our Group Reservations page or contact the Resort office at 904-824-9840 to arrange a group reservation.
Not finding your answer here? Send us a message.
"We absolutely love this resort! We moved from CA with our 5th wheel to see if St. Augustine is the area we want to make our permanent home so we are staying here as we sort through that and this place has been awesome! We've watched them totally remodel and make it so pretty and comfortable!"
"Lots of slips available and soon to be things to do. Building in process. Future looks bright!"
"The new section is perfectly done so far. I look forward seeing the pool area completed. Rob and team are friendly and that made us want to stay here."
"Friendly service, nice relaxing place to stay, clean restrooms, and good times."
"Great RV park! The new section is big rig friendly, with long, wide paved sites. They are still working on the clubhouse and pool but they look very nice from the outside. We will be back!"